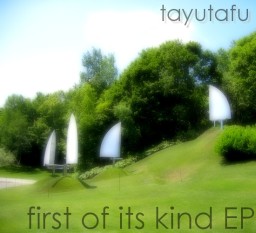 Release notes
The 1st release of tayutafu from Sapporo, Japan. These tracks were reconstructed from many sampling materials.
review
Nekompromisní hard techno se štítkem "made in japan" na podvozku už se válí na vrakovišti. Žádná škoda. Šikmoocí techno producenti, ale ještě nehází flintu do žita. Zkouší vám zamotat hlavu o poznání melodičtějšími/propracovanějšími opusy. Přesně takovými, jaké můžete najít i v katalogu japonského Bump Foot Rec, který jako vedlejšák provozuje radio stanice Radio307. Zahřívací kolo v barvách BF už odběhli Zucchini a Tatsu, aktuální release z tohoto labelu má ovšem na triku Tayutafu. Producent, do kterého můžete vrazit v ulicích Sappora a který svůj čtyř skladbový debut pro Bump Foot údajně "slepil dohromady ze spousty vysamplovaného materiálu", připomíná , že sledovat japonskou scénu se ještě pořád vyplatí.

(translation in English by k.eight.a)

Uncompromising hard techno with the banner "made in japan" on the wheelframe is already laying on the car cemetery. No shame at all. Sloe-eyed techno producers are not giving up. They are trying to flummox you with a rather more melodical/elaborate opus. Exactly the same as you would find in the catalog of Japanese Bump Foot Rec that is conducted as a sideline by radio station Radio307. Warmup circuit in colors of BF had been run by Zucchini and Tatsu, the actual release of this label is done by Tayutafu. Producer whom you can face in the streets of Sapporo and who allegedly "pasted together from plenty of sample extracted material" his four song debut for Bump Foot reminds that following up the Japanese scene still pays off.
License
Track list
MP3, total time 20:41, total size 18.9MB
Misc