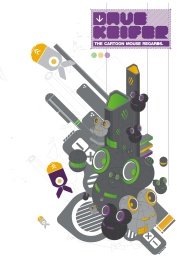 Release notes
A netlabel veteran Cagey House visited Bump Foot.
Which is where things get tricky. The EP is in a new style for me. In the past, I've done what might be called dada-inspired electro-pop. The musical elements were fairly strange, but the forms that held them together were pretty simple - at its best (like The Window Hat, released on Dog-Eared) it was like the Ventures playing the Sun Ra songbook. The new stuff is odder. The forms are very fluid. Hardly a bar goes by without some major change in direction, and the only thing that staves off complete chaos is a consistency in tone and a maybe a few rhythmic or melodic ideas that get tossed around by the various instruments.
Artworks are product of a collaborative work of Jomino and xNoleet. It's a "DVD special edition" kind of thing.
Review
L'electro c'est rigolo! C'est un peut ce qu'on se dit à l'écoute de ces 4 titres signés de l'américain Dave Keifer, un garçon qui donne un coté ludique et abstrait à la musiques électronique comme l'on pu faire en leur temps des gens comme Jean-jacques Perrey auquel on pense notamment sur le premier titres avec ses sonorités Moog ou encore Pierre Henry dans une forme beaucoup plus cérébrale. En résumé, "Cartoon Mouse Regardsest" un drôle de petit Ep aux notes fraîches, rondes et sautillantes qui tranche avec ce que l'on peut écouter habituellement sur les netaudios.
License
Track list
MP3, total time 15:05, total size 34.5MB
Misc