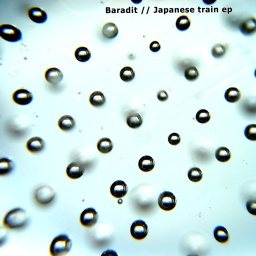 Release notes
When Gozne had released Nomenklatura, it had begun. After that, he made La botica remixes and Tatsu joined to it. The connection between EPA Sonidos and Bump Foot continued : Tatsu was invited to two compilations : EPA Toasted (epa050) and EPA Frozen RMXS (epa060). This time, we featured two men behind EPA Sonidos. One of them, Baradit came to foot side. This EP contains four electro-pop tracks, makes "the brighter side".
Japanese train : Inspired by the train simulator "BVE" (open source) in Japanese train lines.
Phrases : A "single pop song" with lyrics in French language with the participation of two musician friends; Valentina Fuentez in lyrics and vocals + Takuri Tricot on guitar arrangements.
Cosmic : An acoustic-electronic music making with sound field from Valparaiso Chile, and arrangements recorded with drum percussion.
Fly : Song with modulations with midi controller. And a line with electric bass.
Music, programming, bass, percussion and artwork by Felipe Baradit Stevenson. Except track 2. Lyrics and vocals by Valentina Fuentes Benitez, Guitar by Takuri Tricot Reyes.
License
Track list
MP3, total time 13:57, total size 32.2MB
Misc