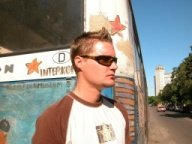 Description
Pete Kirill, aka DJ Kirill, originates from the town of Darien, Ct., where his early musical interests were rooted in New York City hip-hop and house. With only a forty-five minute train ride to the city, Kirill would spend his Saturdays digging through record shops in Soho for mix tapes from New York's finest underground DJ's.
At age 16, he purchased his first set of turntables and began mixing hip-hop and house, making his own mix tapes that he would hand out to friends.
In 1994, Kirill moved to Chicago where he pursued a BFA from The School of the Art Institute of Chicago. This is where Kirill found inspiration and fell in love with underground house music.
Internationally known for it's rich music culture, Chicago has produced some of the world's finest house DJ's and producers. DJ's such as Derrick Carter, Gene Ferris, and house legend, Frankie Knuckles all call Chicago home.
Inspired by local and international talents, Kirill formed his own unique mixing style. His hard work and determination landed him his first club residency in 1998, at Chicago's infamous Dragon Room with the Ginseng Promotions. Kirill was at The Dragon Room every Friday night, and this was the launching pad for his career.
After his first residency, Kirill's high-energy house sets were sought by other respected venues throughout the city. Red No. 5, Kustom, and The Drink, are just a few of the clubs that hosted Kirill.
In 2002, Kirill broke through the local Chicago scene and went international. He played at clubs in Paris (La Faberique), Luxembourg (Tour De France electronic music festival), and Cancun (The Full Moon Party).
During 2003, Kirill began working on a music project in Havana, Cuba fusing house music with afro-Cuban percussion. With the help of French producer Jean Claude and the Cuban group Sin Palabras (Naive Records), Project Cuba was born.
Project Cuba is a live act where Kirill mixes funky house, while Sin Palabras layers Cuban percussion over the his music. The project quickly gained international interest and began touring around the globe.
Project Cuba has been published in Epok Magazine, WAD Urban Music Magazine, and Big Shot Magazine. Their music has also been featured on La Nova Radio, Paris. It was during this time that Kirill decided to move to Miami Beach and continue his work in Cuba.
DJ Kirill's work in Havana has had a great impact on his music production and mixing style. In 2004, he began a remix project with Sin Palabras. Working with DJ/producers Sattva and The Surrogate, Kirill released his first record, "Project Cuba".
The release featured a house remix of Sin Palabras tracks "Cuban E-Fusion" and "House of Yema". The record was well received and gained Kirill international respect as a producer. Soon after its release, Project Cuba made its way onto Chris Fortiers Balance Promote Group record chart, putting it into the sets of DJ's around the world.
In Febuary of 2005, DJ Kirill landed himself a residency at the Miami nightclub, The District, mixing his unique blend of funky house with Latin percussion every Saturday night.
Currently, Kirill has teamed up with Brooklyn DJ David Pierce and St. Louis DJ Rafi to form 610 Dean Promotions. The trio currently organizes music events at clubs in Brooklyn, Miami Beach, and St. Louis.
Discography
Cuban-e-Fusion EP - Project Cuba
House of Yema EP - Project Cuba
International Venues
La Faberique / Paris, France
La Scene / Paris, France
Bar Latino / Paris, France
Cat Club / Luxembourg
Blue / Cancun, Mexico
Club National / Havana, Cuba
La Cocktail / Havana, Cuba
International Festivals
Full Moon Experience / Cancun, Mexico
Tour De France Techno Festival / Luxembourg
U.S. Venues
Betty's Blue Star Lounge / Chicago, IL
Big Wig / Chicago, IL
Divine/ Chicago, IL
Dragon Room/ Chicago, IL
Kustom / Chicago, IL
Neo / Chicago, IL
The Drink, / Chicago, IL
Red No.5, / Chicago, IL
Fifth Floor / Chicago, IL
The Upstairs Lounge / St. Louis, MO
South Paw / Brooklyn, NY
The District / Miami, FL
Club Blue / Miami Beach, FL
Contact
Release list