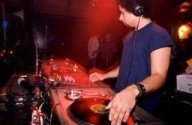 Description
Growing up on the island of St. Thomas, Mike Steele was exposed at an early age to the Caribbean grooves of Calypso and Reggae. Without the knowledge and availability of mixing equipment, Mike used a prehistoric dual tape machine to edit the music and create a sound he enjoyed and called his own. "I would make mix tapes for all my schoolmates. Anything from Whodini, Run DMC & the Police, to Bob Marley, Peter Tosh and Calypso legend the Mighty Sparrow." Jump forward three decades and Mike continues to create the same thing today. Only now, he is living in Chicago and using a mixer, turntables and records.
Mike moved to Chicago in the summer of 1994 and was immediately drawn to the thriving House music scene. Working at the legendary Gramaphone Records music shop for over three years, Mike received an invaluable education on the past, present and potential future sound of House music. It also provided the opportunity for Mike to experiment and fine tune his craft of mixing and EQing, as well as learn some of the skills from the worlds most talented DJs and producers. This education has since made it possible for him to personally contribute to the ever-growing global House movement.
He has played at all the premier clubs in Chicago including "Shelter", "Metro/Smart Bar", "Red Dog" and "Zentra", as well as over 40 other nightspots throughout the windy city. When not playing at these venues, Mike Steele's talents have allowed him the opportunity to play records in Western Europe, the Caribbean, Canada and many cities throughout the United States. Past achievements also include regular guest appearances on Chicago radio 92.7fm to help promote the underground House movement through the late night airwaves. Mike has also held a weekly residency for three years on Chicago radio station Q101fm's Sonic Boom show. Mike is also one of a select few to make regular appearances on the XM Satellite radio station The Move XM Ch. 80.
When not traveling, mixing at a club or radio broadcast, or promoting his upcoming events, Mike finds himself hard at work in the studio creating his own beats and melodies taken from a vast library of sounds. Mike has released his own material on his own Lacquer Crackers Music label, as well as Chicago favorite Dubbtown Recordings and the UK's Hudd Traxx label. He also has had the opportunity to work closely with London based producers Jesse Rose and Atlantic Fusion on the More Than One LP released on Front Room Recordings. UK DJ Yousef has also used Mike's "Big Johnsons" track on his 2005 mix CD for International DJ Magazine's Sessions series Vol. 1.
Jackin, Chicago flavored House, and dubby-funky House with a freaky-funky-twist of Disco are just a few ways to describe Mike's unique sound. His sound constantly evolves making each of his sets special. His seamless mixing style motivates a room to a point where you think you've had enough, but then all of a sudden... there's more! His music is a relentless Energizer; it keeps going & going & going.
Discography
Gonna Find Me EP - White Label
Sunnyside funk EP - Lacquer Crackers Music
Sugarmen EP - Dubbtown Recordings
Shake Your Pants EP - Lacquer Crackers Music
Gonna Find Me Rmx. EP - Lacquer Crackers Music
Boys in the Hudd EP - Hudd Traxx
Additional production & credits
"Big Johnsons" appears on International DJ Magazine's Sessions Vol. 1 mix CD. Mixed by Yousef (2005)
Atlantic Fusion, Jesse Rose and Mike Steele: "The Conversation". (Taken from the More Than One LP) Front Room Recordings (2006)
"Does not Compute" appears on Ministry of Sound's Sessions mix CD. Mixed by Mark Farina (2006)
Release list